Windshield wiper and washer switch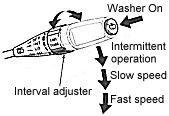 To turn the wipers on, move the lever. To make the washer squirt, push the button on the end of the lever.
The key myst be in the "ON" position.
The wipers will operate at intervals when the lever is in the "INT" position. With the lever in this position, the wipers can be adjusted to operate at intervals of 3 to 12 seconds depending on the interval adjuster setting between "S" and "F".
Also the wipers will automatically operate a couple of times after the washer squirts even with the lever in the "OFF" position.
If the washer does not work, check to see whether the washer tank is empty. For information on adding washer fluid, see Adding Washer Fluid.
In cold weather, warm the winshield with the defroster before using the washer. This will help prevent icing, which could block your vision.
NOTICE:
Do not operate the wipers if the windshield is dry. It may scratch the glass.