FRONT SEAT ADJUSTMENT PRECAUTIONS
Adjust the driver's seat so that the foot pedals, steering wheel and instrument panel controls are within easy reach of the driver.
CAUTION:
Adjustments should not be made while the vehicle is moving, as the seat may unexpectedly move and cause the driver to lose control of the vehicle.
When adjusting the seat, be careful not to hit the seat against a passenger or luggage.
After adjusting the seat position, try sliding it forward and backward to make sure it is locked in position.
After adjusting the seatback, exert body pressure to make sure it is locked in position.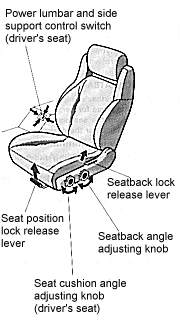 ADJUSTING FRONT SEAT POSITION
Pull the lock release lever up. Then slide the seat to the desired position with slight body pressure and release the lever.
Do not place anything under the front seats. It might interfere with the seat-lock mechanism.
ADJUSTING FRONT SEATBACK ANGLE
To adjust the seatback angle, turn the knob. To change the angle further, pull the lock release lever, lean the seatback until it locks, then turn the knob for the desired angle.
ADJUSTING DRIVER'S SEAT CUSHION ANGLE
Turn the knob either way.
ADJUSTING DRIVER'S SEAT POWER LUMBER AND SIDE SUPPORTS
Move the control switch up or down to adjust the lumbar support and right or left to adjust the side supports.
Releasing the switch will stop the move in that position. The ignition key must be in the "ON" position.
CAUTION:
To reduce the risk of sliding under the lap belt during a collision, avoid reclining the seatback any more than needed. The seat belts provide maximum protection when the driver and passenger are sitting up straight and well back in the seats. If you are relined, the lap belt may slide past your hips and apply restraint forces directly to the abdomen. Therefore in the event of a frontal collision, the risk of personal injury may increae with increasing recline of the seatback.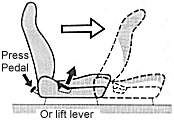 MOVING PASSENGER'S SEAT FOR REAR SEAT ENTRY Lift the seatback lock release lever or press the release pedal - the seat will automatically slide forward.
This allows passengers to get into or out of the rear seat easily. After passengers are in, list up on the seatback and push the seat rearward until it locks.
CAUTION
After putting back the seat, try pushing the seat forward and rearward to make sure that it is secured in place.
Never allow anyone to rest their foot on the press pedal while the vehicle is moving.
---